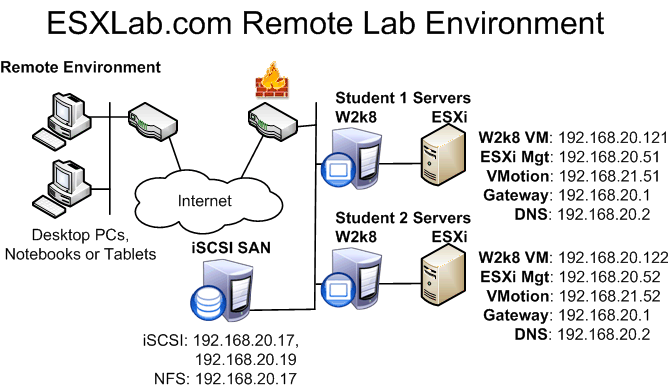 Lab Rental Prices
Length of Lab Rental
(Consecutive Days)
Price
Dedicated - 7 Days
$99.95 USD


Dedicated - 14 Days
$149.95 USD


Dedicated - 30 Days
$199.95 USD


If you have other requirements such as need more time or need a custom configuration, please Contact us for a quote.
Remote Access vSphere 6 Hands-on Labs
VMware vSphere 6 only installs and runs on Enterprise class PC Servers, shared storage and networking - which can cost thousands of dollars and requires skilled technical resources to configure for proper use. ESXLab takes the cost and risk out of running VMware vSphere 6 labs by offering pre-configured, ready to run, classroom or individual self-study VMware labs available for rent.
Server Pod Configuration
A server Pod is a set of one or more virtual servers organized into a lab (we call a pod). We have sufficient facility to comfortably support 150+ learners concurrently - with no slow downs or resource contention. Our labs are dedicated to each customer (not shared) and are available 24hrs/day during the lab rental period.
Each server pod contains:
A remote Windows Server 2008 R2 desktop to access your lab environment (access via a web browser or RDP / RDS)
One or two virtual ESXi hosts with 4 CPU cores, 12+ GB of RAM and 150GB of local storage
An Active Directory server configured for the esxlab.com domain
Full DNS and DHCP services
An iSCSI SAN with 5 generously sized volumes (LUNs) for ESXi shared storage labs
SMB shares with all supplemental files needed to complete all labs
NFS shares with ready to use vSphere media images for vCenter, vSphere Replication, etc.
A gateway router for full Internet connectivity
Professional hosting at our datacenter
Full support during your rental

Self-Study Lab Rentals
ESXLab rents ready-to-use VMware practice labs for all of our courses. Our remote labs are access through any PC, notebook or tablet that has an HTML 5 compliant browser. Your lab rental is dedicated to you (not shared) and available 24hrs/day during your lab rental period.
The most cost effective way to rent labs is to bundle them in with this course (check bundle features and pricing). Lab rentals are also available without a course for study/practice and include our detailed 240+ page vSphere Lab Guide.
Use our labs to learn or brush up on vSphere 6, to practice using the latest features or to prepare yourself for VMware's certification exams. We offer individuals:
Dedicated Lab Rentals (no sharing with other customers) for periods of 7, 14 or 30 consecutive days
Always available Lab rental. We don't power off or suspend your rentals to give your resources to other customers
Use your labs 24 hours/day for the duration of your class
Offer support during business hours by e-mail
If you only want to rent our labs, or have already purchased this course and want to add remote lab rentals, please e-mail sales@esxlab.com.